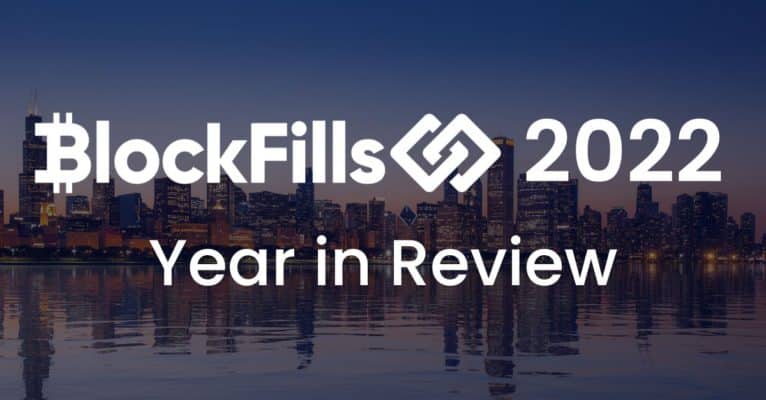 Happy holidays and thank you for another incredible year! As 2022 draws to a close, Team BlockFills would like to reflect on this monumental year. Although the second half of the year brought unpredictable volatility and uncertainty, BlockFills remained strong and continued operating optimally on time, and at record volumes.
BlockFills extends our sincere gratitude to our valued clients, partners, and investors for being a vital element to our success. We look forward to what is in store for 2023!
Highlights:
Onboarded Clients

300+ institutional clients onboarded
BlockFills now serves 950+ institutional clients in over 50 countries
New Connections

BlockFills now has 40+ connections worldwide
Expanding Team BlockFills

 BlockFills welcomed 20+ new hires
BlockFills Remained Ahead
Despite an unexpectedly tumultuous year, BlockFills remained largely unaffected by market volatility. Our trading operations continued running optimally, on time, and at record volume. Throughout this period, BlockFills remained a steady and trusted resource for clients and firms affected by the collapses of major exchanges and market downturn, while also actively and efficiently onboarding new clients
New Initiatives:
Vision Crypto Cloud

BlockFills launched Vision Crypto Cloud, our full-service, end-to-end digital asset trading, order management, and risk management solution. The smart and intuitive interface has simplified all aspects of the trade cycle by enabling institutions to quickly gain access to the digital asset ecosystem out of the box.

Phoenix CFDs Integration

BlockFills and our affiliate, Basis Capital Markets, announced the integration of CFDs into Phoenix, which also supports cash-settled CFDs and client access to deep crypto CFD liquidity.

Chicago Blackhawks Partner
EUR & GBP-Based Pairs

BlockFills went live with trading and settling in EUR + GBP, allowing clients who desire euro and sterling-based pairs access to our deep, executable

Series A Funding Round

BlockFills celebrated $37 million raised to conclude our Series A funding round.

Isla Verde Capital
TPAC Capital Partnership

BlockFills announced our partnership with TPAC Capital, offering institutions cryptocurrency structured product solutions.

CME Derivatives Products
Formidium Integration

BlockFills partnered with Formidium (previously Sudrania) to provide fund admin services. Formidium clients seeking deep spot liquidity, derivatives, and lending services can now pull transaction data, balances, and history automatically, easing reporting/admin tasks via BlockFills' API. Our clients are now able to onboard with Formidium knowing relevant trade data will be smoothly integrated into their Seamless Crypto system.
Coming in 2023
Regulated Custody Integrations

With Zodia Custody by Standard Chartered Bank and Standard Custody

New Technology Partners and Integrations

Gold-i, PrimeXM, Wyden, and others

Streaming New Fiat Pairs
Provision of Carbon Offsets, RECs, + IRECs

BlockFills + Isla Verde Capital is now aiding traders that would like to offset emissions or take a position in these markets.

Cerus Digital Funds

Provides targeted exposure to crypto assets via family of funds whose diverse spectrum of strategies are rooted in deep tradfi + digital domain expertise

Staking

Clients will gain access to an institutional-grade offering integrated with BlockFills' battle-tested technology stack

Coherra Video Library

BlockFills is currently curating a free library of instructional videos for our SaaS tech, as well as industry insights + updates.
We thank you for your continued support and business, whether you are a recent client of BlockFills or have been with us since inception. The success and resilience of 2022 has made us eager and excited for the future. Wishing you and your families a happy and healthy holiday season and year to come.
Sincerely,
The BlockFills Team